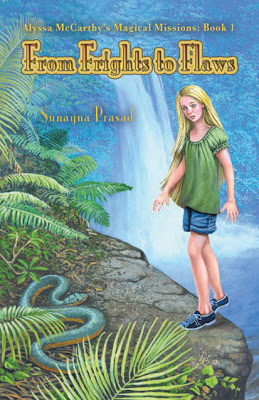 Title
: Alyssa McCarthy's Magical Missions: Book 1: From Frights to Flaws
Genre:
Middle Grade Fantasy
Author
: Sunayna Prasad
Publisher
: FriesenPress (August 22, 2013)
Pages
: 216
Language
: English
ISBN-10
: 1460207017
ISBN-13
: 978-1460207017
Twelve-year-old Alyssa McCarthy can no longer stand the toughness of her uncle and wants a better life. But one day she discovers not only the existence of magic, but also a villain hunting her down. The villain uses magic and magical technology to kidnap Alyssa to the Fiji Islands. As much as she wants to go home, she has to face some dangerous challenges first. Not only that, the villain himself must also be defeated. Can Alyssa succeed, even with the help of her mentors?
Read the first chapter HERE.
Discuss this book in our PUYB Virtual Book Club at Goodreads by clicking HERE.
Sign up for review/hosting HERE.
Deadline to sign up is October 31.