Patrick Andendall will be touring February 2 – March 27 with his political book, STUPIDPARTY MATH V. MYTH: UNMASKING THE DESTRUCTIVE FORCES ERODING AMERICAN DEMOCRACY!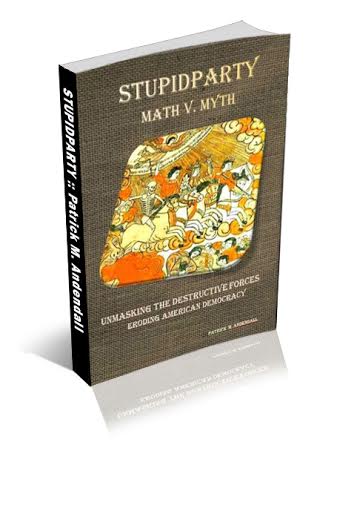 Title
: Stupidparty Math V. Myth: Unmasking the Destructive Forces Eroding American Democracy
Author
: Patrick Andendall
Publisher
: Fact Over Fiction Publishing LTD.
Pages
: 408
Genre
: Politics
Format
: Paperback/Kindle
Stupidparty Math v. Myth
: Unmasking the Destructive Forces Eroding American Democracy
relies on publicly available facts, resources and tools to deconstruct and relentlessly drill down on the numerous misconceptions held by too many Republicans. Substantiated by more than 1,500 hyperlinks to authoritative resources, readers will find:
Stupidparty positions defrocked on: the "Moochers", the economy, climate change, environmental stewardship, racism, religion, "Freedoms", guns, and ignorance-based humor.
The fallacy of Fox News facts exposed, documented, and explained.
Also included are 1,055 full color images and 121 graphs and charts.
Once thoughtful, discerning Americans understand the destructive forces manipulating their views, they will begin to call for a stop to the stupidity that has invaded our politics and poisoned our political process. The eradication of Stupid from the Stupidparty is the first step.
This book does not set out to destroy the Republican Party. The U.S. needs at least two parties. But by exposing the abundance of Myth with the relentless use of Math and facts, the problems and then the solutions become self-evident.
"A disillusioned conservative delivers a spirited critique of the Republican Party's deterioration since George W. Bush's presidency. . . . a rollicking ride" —Kirkus Reviews
"A brilliant book, complete with clickable details to verify the author's veracity."
—Thom Hartmann, New York Times best-selling author of The Crash of 2016 and nationally syndicated radio show host
Please click here to sign up!